Calling all California students!
You are invited to enter the California Coastal Art & Poetry Contest!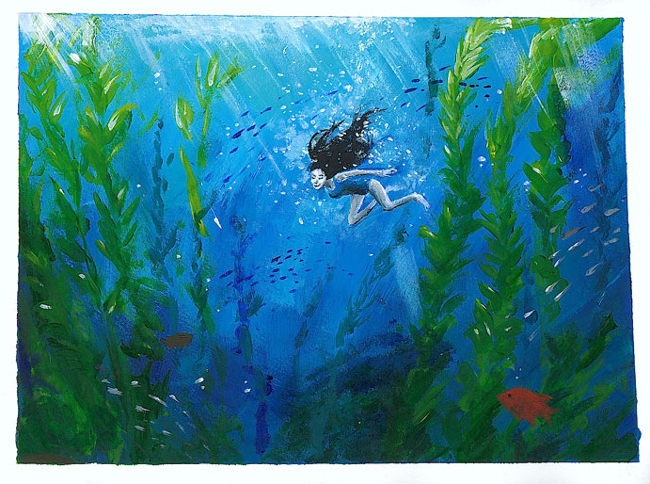 Kelp Forest, by Alexa Sharpe, 12th grade, 2012 contest, Torrance

The California Coastal Commission invites California students in kindergarten through 12th grade to submit artwork or poetry with a California coastal or marine theme to the annual Coastal Art & Poetry Contest. Up to ten winners will be selected to win $100 gift certificates to an art supply or book store, and each winner's sponsoring teacher will receive a $50 gift certificate for educational supplies, courtesy of Acorn Naturalists . All winners and honorable mentions will receive tickets for their families to visit the Aquarium of the Pacific, courtesy of the Aquarium. Students may have their work featured on Commission web pages and materials, and winning entries will be exhibited throughout the state.
Entries must be postmarked by January 31, 2013 to be eligible for the upcoming contest. For rules and entry form (and helpful links for teachers and students), visit our website, email This e-mail address is being protected from spambots. You need JavaScript enabled to view it , or call (800) Coast-4U. You can also download a contest flyer.
The 2012 contest is currently on exhibit at Crystal Cove State Park cottage #46. Visit it there until the end of December, when it travels to its next location at Channel Islands National Park Visitor enter in Ventura Harbor.
Visit the California Coastal Commission's Public Education Program on the web at www.coastforyou.org.
Thursday, 20 October 2011 00:00
Join SEA members in the SYC Midwinter races. Sign up by clicking on a date below.
Dates: First Sunday 11/4 to 3/3
Time: 11-3pm
Charter Cost: Series $65 | Dropin $25/day
Precedence given to full series signup, we need 4 per boat to compete.
Upcoming Races
Wed

10

Oct

2012

Written by John Paul Watts
Kenichi Uyeda, Skipper John Paul Watts & Christian GundersonWell, well, well – there we were, prepared for the worst (small craft advisory) that the Pacific could throw at us. Yes, after out-the-gate attempted voyages to Stinson Beach and the Farallones (3 failures with one successful boat returning at 0100 the next day), we looked forward to sailing under full canvas south to Half Moon Bay. 'We' were Windseeker with Mike Brownell, Bill Crowley, Libby Booth and Dustin Dovala and Summer Solstice with John Paul Watts, Christian Gunderson and Kenichi Uyeda.
Rendezvous-ing under the Golden Gate Bridge at 0900 we motor-sailed with mains up looking for the breeze. A bank of fog in the Gate, visibility to 18 inches! We thought of the fleet lining up to enter the Gate for its procession down Crissy Fields at 1100: would we bump into any of them? What if we stay Baker Beach side of the Gate? What of Lands End and Three Mile Rock? Yikes! 'Shall we turn back and breakfast at Sam's?' was on everyone's mind. Nooo! Reach for the GPS and the chart and plot a danger bearing for just south of SF shipping channel buoy #8 and the south tower of the GG Bridge. That did it! With Windseeker plotting similar on the north side of the Gate, we motored past Point Bonita and Three Mile, into sunshine. The South Shoal off Ocean Beach was calm: our course now lay south from buoy #8 to Montara lighthouse, still with ne'er a flicker of breeze. The gray fleet was lining up to move slowly down the channel in-bound for SF Bay and the Blue Angels.
Read more...
SEA's Annual Member Meeting at Saylors!
When: Thursday, October 18
6pm-9pm (Happy Hour @ 6pm)
Where: Saylor's Restaurant (upstairs in the Cabo Wabo Room), 2009 Bridgeway Blvd. Sausalito
Join us for happy hour at 6pm. Meeting begins at 7pm.
This is a very important meeting to give recognition to our many very special volunteers this year, many of whom have spent countless hours instructing, fixing boats, and attending meetings to ensure others can affordably and safely learn and enjoy the art of sailing on The SF Bay and beyond. We want them to know how much we appreciate them!
We will also review the year's accomplishments and challenges. There have been many things to celebrate, but we also have some big issues to discuss.
It's election time! A new Board of Directors will be elected to help steer SEA into its 30th year. And, we look forward to a big celebration next year!
Read more...
Skipper: Mike Brownell (far right) Crew: Dustin Dovala,
Elizabeth Booth, Bill CrowleyThe trip started with an exciting foray through the wall of fog under the bridge with one USCG cutter in front and another USCG cutter close behind. . . Everyone was meeting under the bridge at 9 to line up for the parade of ships starting at 10. This made for a very interesting 20 minutes or so between the gate and Pt Diablo, radar, AIS, ships bell and 4 pairs of eyeballs all very attuned to the traffic (porpoises included) , visibility at first just off the bow, then ~ 100 yards, finally ~500 yards, clear shortly after we rounded #8 buoy.
Read more...
Thursday, 20 October 2011 00:00
Romberg Tiburon Center Discovery Day Open House
A wonderful hands on marine bio science experience for youths and adults!
Date: Sunday, October 21
Time: 11am - 4pm
Location: 3150 Paradise Drive, Tiburon, CA 94920
RSVP: RSVP at Eventbrite
Discovery Day is the one day of the year when the public can visit and spend the day behind the scenes, meet scientists and learn about their cutting edge marine biology research in San Francisco Bay and beyond.
There will be displays covering impacts of climate change and other human intervention on life in SF Bay, the SF Bay food web, estuaries, measuring currents in SF Bay, microscopic algae, underwater sounds, wetland habitats, and biodiversity. Listen to engaging talks on topics such as the history of the RTC site, plankton research in the Amazon River outflow, and the mysterious sounds of the SF Bay fish.
SEA partnered with RTC for a successful SEA Explorers in August 2011 and will continue the collaboration into 2013.
Look for other SEA members and SEA Explorers Logbook at this event!
We look forward to more opportunities to accomplish our mission supporting stewardship and conservation.
Read more...
Tue

09

Oct

2012

Written by Catherine Boucher
A Natural Roller Coaster Ride!***
I am writing this full report for my SEA friends who were standing along with their kids on the Organ Wave last Thursday, almost crying of joy for me, rooting for The Energy Team, in spite of their Italian, English, Peruvian or American nationalities!
In 2000 I heard about Sailing Education Adventures, an amazing non-profit sailing organization based in Sausalito. I immediately started sailing with them when I was barely speaking English. Everything I know on a boat I learned from exceptional SEA volunteers, but also San Francisco Bay local experts and SEA Members John Paul Watts, Frank Lawler, Cathy Steirhoff and so many others. Over the years all of them became friends for life. Thank you SEA!
When my domestic partner Eric, who is not a sailor at all, arranged and offered me the unique opportunity to sail as a guest racer with the America's Cup World Series on Energy Team with Loick Peyron and his "boys" on October 4th on one of the 7 official regattas of this ACWS, I was speechless and could not believe it.
Read more...
SEA member and star racer Cathy Stierhoff received the Bank of Marin Spirit of Marin award at the Bank of Marin Spirit of Marin lunch, Friday September 28th.
Cathy won the award for her many years of volunteer support to the Sausalito Chamber of Commerce in the areas of finance, events such as Amgen and Sakaide sister city program, membership recruitment, organizing food booths and many other events and programs.
She continues to make invaluable contribution to the Sausalito community through her volunteer efforts and time. Her many years with SEA both on and off the water have made this organization much stronger!
Congratulations Cathy on your well deserved award from your friends at SEA.
Photos by Carlos Grana
People are talking about a strange craft hovering over Shockwave on Monday. Was it a wayward AC helicopter discovering the real sailing action in The SF Bay? Finally?
Or, are SEA Members Carlos Grana and JP Watts up to some tricks? We suspect the boatload of Shockwave sailors, including Sandor Schoichet, Christian Gunderson and Bill Crowley might be in on the secret, too.
Read more...